Kinneil

Kinneil entrance

Kinneil window

Kinneil entrance

Holy Isle from Kinneil
When we took over Kinneil in 2006 we just fell in love with its beautiful tranquil setting. Arran a place to escape a naturalist's paradise. Soon we wished to take part in conserving natural Arran assets for future generations to enjoy. We always had a positive lifestyle and we want to be able to offer our guest's a sustainable choice.#
In 2010 Kinneil was accredited with a Silver Award by The Green Tourism Business. We try to keep and continuously to improve our standards through recycling, energy and water conservation, minimising of waste, screening of our suppliers and trade, carbon impact, using natural and eco friendly products and local services. Maps on walks e. g. the Arran Coastal Way, part of which is 'right from the doorsteps', walking poles, are available. We are happy to arrange transport from the ferry, or doing previous shopping's for you.
Arran has lots of places to spot native wildlife like eagles, red deer, basking sharks or for the not so active one's, the red squirrels which you can see in the garden from your window side or balcony.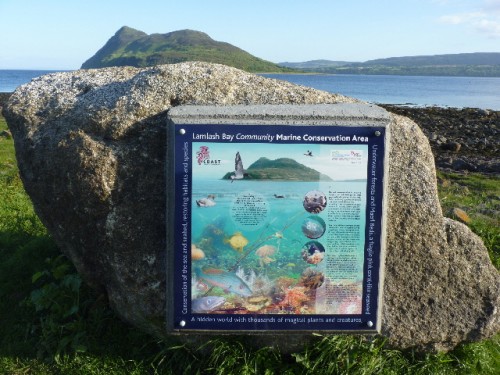 2008 Lamlash Bay became Scotland's first 'No Take Zone'.
On a gentle stroll from Kinneil along the beach you will be able to see seals and sometimes porpoises and otters.
Learn from Arran C.O.A.S.T. about the hidden world with thousands of magical plants and creatures.
Info and DVD'sare available at Kinneil.
At the farmers markets you will find local products which gives you a flavour of the Island. Arran is Fairtrade island www.arranfairtrade.com (which we are active in) and organic products are available as well. Arran has a chocolate factory, a cheese company, a distillery, a brewery and Arran Aromatics. Good local facilities including shops, local café's, bars and restaurants are in walking distance from the house.
Our community offers all kind of activities: Regular BreathWalk and Yoga classes
www.yoga-arran.com
 are held at Kinneil, seven golf courses, easy strolls and serious hill walks, rock climbing, a lot of history along the way, unique geology, standing stones, horse riding, sea kayaking, to name a few things to do.